BOOKING ONLINE
Best Rate Guaranteed
Hotel residence

Torino centro

Book Online your stay at our hotel newly opened. Only here you will find the best rate, all our special offers and additional services.

Professional staff to offer its customers the highest quality and courtesy.

We wish you a good stay!
Hotel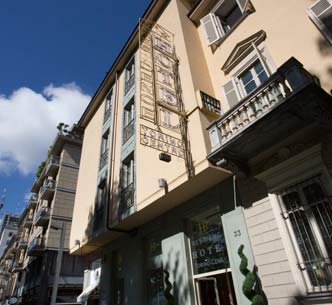 Torino Centro Hotel & Residence:
- It is a 3-star "superior", hotel located in a 19th centuryancient building in Liberty style, of remarkable architectural value, completely restructured and featuring all comforts.

- The Service standard is definitely high and the Staff is highly professional, kind and available to offer information and assistance to Clients, for a pleasant stay at Torino Hotel.

- It is located near the exit of Turin Porta Susa station, in the city centre and in a strategic position in respect to the main Turin attractions: Museo Egizio (Egyptian Museum), Museo del Cinema (Cinema Museum), Mole Antonelliana, Museo della Sacra Sindone, Lingotto Fiere, Reggia di Venaria Reale, Pala Alpitur, Juventus Stadium.

- It features spacious, finely furnished rooms and conference rooms of different sizes, ideal to plan events, meetings and ceremonies with Coffee break, Buffet, Fine catering, Catering service, Etc.

- Large range of Services intended for Clients and excellent Quality/Price ratio ensure utmost customer satisfaction.
"We spent one night in the hotel on the way to Paris. Room was huge. Very clean and comfortable. Bathroom was excellent, huge size. Staff were friendly and assisted with any queries. Location for the train was excellent. Gelato next door was great! "

Tripadvisor
"It's an excellent hotel. We chose it because it is next to Porta Susa station, where we were leaving for our next destination. We had a lovely big room with beautifull furniture. Also had a huge balcony, facing the inner courtyard, so it was quiet."

Booking.com
"Staff was really kind, available and supporting. We have been upgraded to a suite and also have been allowed to stay till noon at no additional cost. Receptionists always have an answer to your queries. Really more than a 3 star hotel - totally positive experience!"

Venere.com